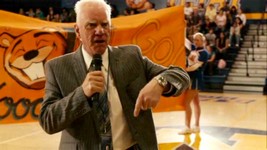 Principal Gibbons

Gender

Male

Age

50's-60's

Hair color

White

Eye color

Gray

Address

Ojai, California

Occupation

Principal at North Ojai High School

Employees

Mr. Griffith (English teacher)
Mrs. Griffith (Guidance counselor)

Friends

Enemies
Principal Gibbons
is the principal at North Ojai High School. He is hobophobic, as
Brandon
called him to Olive, and he sided with a boy that beat
Brandon
up and gave
Brandon
detention.
He also gave Olive detention for calling Nina a "twat" and Nina didn't get in trouble for calling Olive a "tramp", for whatever reason.
He accepted the petition from Marianne Bryant to change the school mascot name from the "Blue Devils" to the "Woodchucks".
He tried to get Olive back into his office at the end of the film, after she does her musical number, but Olive told him to talk to Mrs. Griffith, because she would probably talk him into having her stay at school and not get expelled.
Ad blocker interference detected!
Wikia is a free-to-use site that makes money from advertising. We have a modified experience for viewers using ad blockers

Wikia is not accessible if you've made further modifications. Remove the custom ad blocker rule(s) and the page will load as expected.