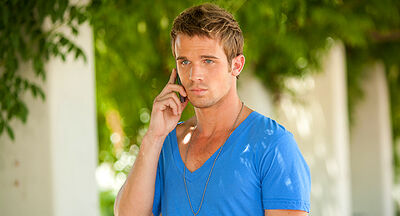 Micah

Gender

Male

Hair color

Brown

Eye color

Brown

Birthday

1988-1990

Address

Ojai, California (former)
Palatka, Florida (current)

Occupation

Student

Family

Unnamed (father)
Unnamed (mother)
Unnamed (grandfather)
Unnamed (grandmother)

Relationships

Marianne Bryant (ex-girlfriend)
Mrs. Griffith (fling)

Friends
Micah
is the ex-boyfriend of
Marianne Bryant
and the fling of
Mrs. Griffith
. He is from a very religious family, and when it was discovered that he was sleeping with
Mrs. Griffith
, he was sent to Florida to live with his very religious grandparents.
His mother hit him with a hand bag when she found out that he got an STD from Mrs. Griffith.
He is either 21 or 22. Olive mentions to Marianne that her boyfriend is 22. However, Mrs. Griffith mentions to Olive that Micah is "21 and eight months", so his age is currently unknown.
It is revealed from Marianne to Olive that Micah's parents are getting a divorce.